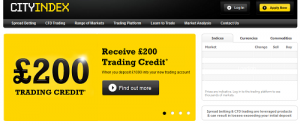 There are a number of different brokers available that offer CFD trading. However, there are only a few which are considered CFD specialists. City Index is one of these brokers. Their expertise in contracts for difference make them one of the top choices for CFD broker. In fact, in 2009 they were named Best Online CFD Provider by MoneyAM.
City Index continues to push the CFD industry ahead by providing technological innovations that enhance the trader's ability to trade CFDs quickly and easily. City Index features CFD trading apps for Blackberry, iPhone and Android smart phone platforms. They also provide excellent customer support, which is available via phone, email and live chat.
City Index CFD Trading Features
As mentioned, City Index provides several trading platforms. This includes an online platform as well as those for your mobile device – iPhone, Blackberry and Android. There are detailed tutorials available to walk you through using the trading platforms the first time and should you have any issues, customer support is also available to help.
Speaking of tutorials, the City Index website has a great number of helpful hints and tips for trading CFDs. They provide articles, videos, and guides for moving from a beginning CFD trader to an experienced one. They also provide seminars on everything from basic trading to risk management to advanced strategies.
They even offer a demo account, which we highly recommend you try. It is a great way of gaining some experience and confidence with not only trading CFDs but the software involved. It is provided free of charge by City Index.
City Index CFD Pricing
City Index provides their award winning trading platforms absolutely free. They do charge a spread on every CFD trade made. The spread on equity trades is currently 0.1%, which is among the lowest spreads available. Remember that you pay the spread on both the opening and closing transactions.
City Index will provide the bid and offer prices of any security they offer. However, the prices do fluctuate quickly, but the spread will remain the same. The bid and the offer prices are basically the buy and the sell price. City Index, and any CFD broker for that matter, will always sell at the higher price and buy at the lower price. This is how they make a profit on any given trade. Equity CFDs may also be subject to a commission, whereas some securities, such as commodities, indexes and currencies will not incur a commission (just the spread).
Other charges may include overnight finance charges. This fee will be charged when you hold a CFD for more than one trading day. Every day that you hold the contract is subject to another overnight finance charge. This is basically because the broker is loaning the trader money when trading on margin. CFDs will also be subject to margin calls when appropriate (if your trade is losing money).
City Index Trading Credits
When you open a new account with City Index and make a deposit, they will often provide you the opportunity to receive a trading credit. For instance, right now, when you deposit £1,000 or more and make 3 trades, you can receive a £200 City Index trading credit.
Throughout the year, City Index will change their offer, so be sure to check the current offer by visiting City Index. Make certain to follow the terms of the offer to remain eligible for your trading credit. Not many sites offer such generous trading credits, so you definitely want to take advantage whenever possible.