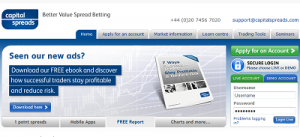 Capital Spreads is one of the world's most trusted financial companies dealing primarily with spread betting and contracts for difference. Their parent company, London Capital Group, are an AIM (Alternative Investment Market) listed organisation in the Financial Services sector, which is a sub-market of the London Stock Exchange. They are also licensed by the FSA. This helps to ensure that clients of Capital Spreads can be confident that they are dealing with a regulated and reputable company.
As more evidence of their reputation, Capital Spreads was named Financial Betting Operator of the Year at the 2010 EGR Awards. They continue to prove that they are willing to do what it takes to a be a service oriented provider for spread bettors and CFD traders alike.
Create your Capital Spreads account today!
Capital Spreads CFD Trading Features
One of the best features of Capital Spreads is the amount of free knowledge and research they have available for their clients. In fact, we at CFD Broker recommend that everyone visit the Capital Spreads website and download their e-book on how to trade while reducing risk and maintaining profit. The book is available absolutely free, whether you have an account or not and offers some great insight on how strategies that are often seen as risky and in fact help you to reduce risk and increase your profitability.
The CFD trading platform at Capital Spreads is excellent and all new clients are invited to reference their site user manual upon creating a new account. Customer service is also available via phone or email from 8 am until 7 pm. They would be more than happy to help you figure out any software features or questions you are having difficulty with.
Additionally, Capital Spreads offers a great demo account option. Even if you have never traded CFDs before, you can practice with the Capital Spreads demo account with no fear of losses. Although not all of the services and listings are available on the demo account, it is still a great way to get used to the software, the trading function, and the real-time pace of CFD trading. We highly recommend opening a Capital Spreads demo account if you have any reservations about trading CFDs online.
Sign up at Capital Spreads today!
Capital Spreads CFD Pricing
Capital Spreads maintains a very competitive pricing model. They do not charge a commission on each trade, but instead operate on a spread model. This means that they price that you buy a CFD and sell a CFD will be different than the price that Capital Spreads buy and sell them at. The spread can be as low as 1 point or higher, depending on the market in which you want to trade.
Capital Spreads also offers generous margin requirements for CFD trading. This allows for controlling a significant investment with a relatively small amount of capital. You should be aware that trading CFDs on margin can be quite risky and it is possible to lose more than your original investment.
Capital Spreads Account Benefits
One of the benefits of utilizing a Capital Spreads CFD trading account as opposed to many other CFD brokers is that Capital Spreads offers a number of options for helping to decrease your overall risk. This includes their unique Limited Risk Account.
The Limited Risk Account includes the availability of Guaranteed Stop Orders. These Guaranteed Stop Orders will help to minimise your overall risk by closing positions automatically if a certain gap has been met. This will stop your account from losing any more money, since theoretically, CFDs can lose an infinite amount of money, depending on your position. At the very least, a Guaranteed Stop Order will keep your account from losing more money than you are financially comfortable with. A Limited Risk Account does incur slightly higher fees, since Capital Spreads is basically insuring your losses are limited. If you are new to CFD trading or somewhat uncomfortable making stop loss decisions on your own, the Limited Risk Account is a great option. If you are a seasoned trader, very familiar with stop losses, then you should make sure you are not paying extra for a Limited Risk Account.